What you get with this eBook
74 Page Interactive Ebook

The Ebook is easily download to your computer, tablet or mobile device.

72 HD Videos

72 HD videos that will help improve your players.

24 Practice Illustrations

24 practice illustrations, showing you the practice purpose, set up, action, variations and important player and coaches tips.

Coerver Coaching's NEW Skills Wheel System

5 ESSENTIAL skills that each of your players should have.

The Coerver Coaching Skills Test in HD video

The Coerver Coaching Skills test in HD video and accompanying illustration. Take your test right onto the field.

My ESSENTIAL Home Study Exercises

Inspire your player to practice more at home or on the go with their smart phone or tablet.
Here's a sample of what you'll learn...
What you should focus on in developing your players
The difference between coaching boys and girls.
How soccer can teach your players to have a successful and happy life
The essential life skills that are learned through the sport
What I consider my greatest asset as a soccer player (it's probably not what you think it is)
Why it's critical to have fun while playing
The differences between male and female players when it comes to praise and reprimand
What to focus on for the different age groups
What's important to players at each age level
Coerver® Coaching's 7 Benefits For Female Players
Makes the game fun to practice and play

Encourages a positive, attacking style

Develops individual and small group skills applicable anywhere on the field

Improves reaction speed with and without the ball

Develops ball touch and control, coordination and flexibility

Encourages good sportsmanship and respect for all

Develops self-esteem and self confidence
This is unbelievable. The fact that you can have this on any sort of device and you can bring it to a practice, it's absolutely extraordinary stuff. I think unquestionably for our generation, this is the future.
For coaches, it's fantastic. The Coerver brand is a wonderful brand. It's a great way to become more technical and become more creative with the ball, and to have a role model, like you, handling this, I think is phenomenal.
It's so user friendly that anyone can use it. You don't need a clipboard anymore, that's the great thing about the iPad, it is all right there on the field with you..
* Disclaimer: Results may vary person to person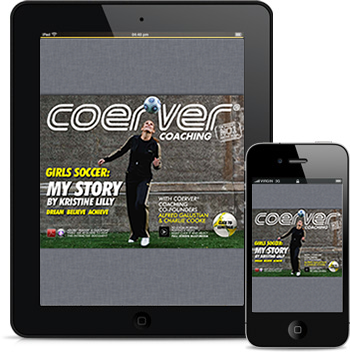 Read it on your favorite device!
74 page interactive Ebook that you can easily download to your computer, tablet or mobile device.
An interactive Ebook that teaches excellence in life and soccer. It uses a mixture of HD video, illustrations, text and the Coerver® System to teach coaches, parents and players.
Ebook includes The Coerver Coaching Skills Test in HD video. Take your test right onto the field.
eBook includes regular and interactive PDF.
Kristine Lilly - Bundles
Kristine Lilly
eBook
$49.95
Special Introductory Price
Kristine Lilly - Girls Soccer
Special Introductory Price
Buy now
Kristine Lilly
Player Pack
Kristine Lilly - Girls Soccer
Play Like The Stars
Buy now
Kristine Lilly
Coaches Pack
Kristine Lilly - Girls Soccer
Play Like The Stars
Session Planner - Ebook with Videos
Reduced Price
Buy now
Order the Coaches pack before May 31st and the first 50 will get a personally autographed card from the legend herself! (Only 1 autograph per package)
90 Day No Hassle, No Questions Asked Guarantee